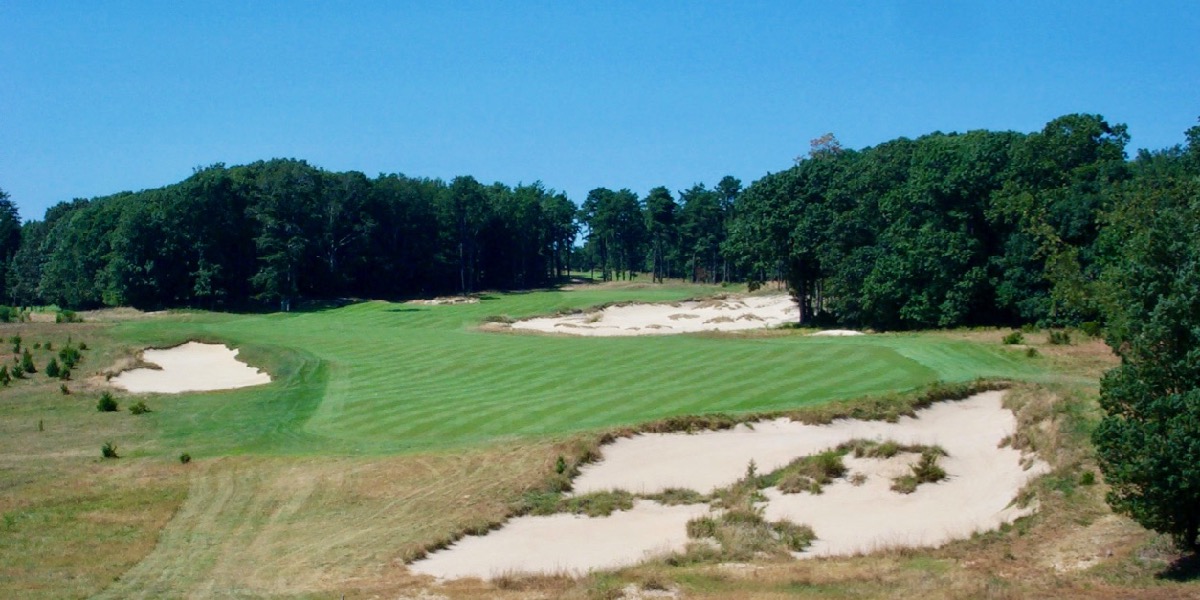 Friars Head- hole 7
Ken Bakst was a champion amateur golfer, and it was his dream to build a golf course at Baiting Hollow, New York- not far from Shinnecock Hills.
Bakst knew good golf land when he saw it and had a vision for what needed to be done.
The site he acquired was right on the ocean but comprised some amazing undulating dunesland perfect for golf and some flat farmland that was not so appealing.
He wisely appointed Coore & Crenshaw as architects fresh off their success at Sand Hills.
Although they took some time to work out a routing that would work with the different types of terrain, the end result produced by Coore Crenshaw is acknowledged as one of the great courses of America...
I had the good fortune to play Friar's Head in August 2003, soon after the course opened...
Coore & Crenshaw have done a wonderful job in blending in the holes on the flat farmland with the more dramatic sandy dunesland nearer the sea.
The farmland holes are beautifully bunkered, strategic, and have clever green complexes.
But is it the duneland holes that take Friar's Head to an elite level..
Friars Head- hole 15
There are 8 holes in the sand, and another four that transit from flat to dunes or vice versa.
And while the flat land holes are good golf holes nearly all of the holes in the sand are world class.
These are the holes that make Friar's Head one of the better courses in the USA
Notable holes include:
- hole 1, a cracking par 4 over sandy waste to an elevated green
Friars Head GC- hole 1
- hole 5, a short par 4 with a wonderful green
- hole 7, a very attractive par as the course heads back into the sand (see pic top of page)
- hole 9, a delightful par 4 dogleg
- hole 10, a unique par 3 semi blind over a dune
Friars Head- hole 9
Friars Head- hole 10
- hole 14, a dramatic par 5 as the course heads back into the dunes
Friars Head- hole 14 green
- hole 15, a lovely downhill par 4 heading for the sea (see pic mid page)
- hole 17, a ripping par 3
- hole 18, a strong par 4 finishing hole with a blind tee shot
Friars Head- hole 17
Friars Head- hole 18 tee shot
I am a big fan of Coore Crenshaw, and Friar's Head is one of their better efforts
And while the course is something special, the overall golfing experience goes beyond the playability of the course.
It's set up as a walking course, and the caddies and overall service levels throughout are first class.
Take a bow Ken Bakst!
Golf Tours
The Travelling Golfer offers golf tours to the USA
We can tailor a trip to suit your group.
For suggested itineraries see: Destinations: USA
Enquiries
Please enquire here: